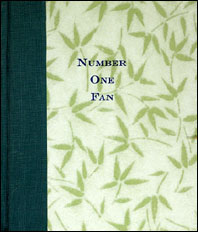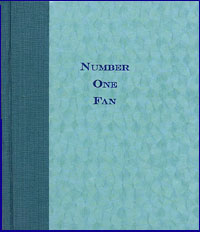 Available August 2003
Handmade. Hardcover. No two alike.
When Riff Randell told the Ramones that she was their 'number one fan,' it was her love of the punk band that defined her. She was a smart and confident teen inspired by the Ramones to create her own portfolio of pop songs. In Number One Fan, writers share their thoughts and experiences about being fans in a world obsessed with pop culture. They explore how our love for music, movies, sports, TV and books can give us stronger identities than any job of skill and how fans are inspired to take culture into their own hands by creating communities and new art.
Read the introduction.
Read about the contributors.

The celebrities of L.A. make Frayn Masters a better person.
Margaret C. Sullivan is frustrated by a Darcycentric world.
Kevin Sampsell imagines the bizarre inner world of Michael Jackson.
Cecilia Tan celebrates female baseball fans.
Cathleen Conway falls in and out of love with the band Blur.
Erin Stanley sews James Spader.
Emily Almond looks for lesbians in popular culture.
Jim Munroe tries to convert a cool guy to Eminem.
Joy Helton celebrates the transformative power of Buffy.
Cassandra Claire decodes the appeal of Harry Potter.
Brian Joseph Davis meets a zen master in Hollywood.
Superheroes consume Jenny Fry.
Rachel Rivera wonders if being a fan makes us who we are.
Optic Nerve helps Pollyanna Rhee like pepole more.
Beth Wiegmann stirs up an Elvish treat.
Cliff Raymond defends the fanboy.
And Doretta Lau ponders hockey and being Canadian.